Considerations for product descriptions
To highlight the right benefits and tell a convincing story in your product description, there are a few considerations you should keep in mind. These will help you shape the product description to appeal to the people most likely to buy in the first place.
Your ideal buyer's needs
Every product you sell should be tailored to meet the needs of your ideal buyer. Every company has an ideal buyer or target audience. Your ideal buyer may be a mid-twenties career woman, or they may be a retired grandfather who likes fishing. Regardless of your ideal buyer's demographics, what's important is that you have a clear idea of how your product will meet their needs and fit into their lives.
When you're writing your product description, keep in mind how your product will serve your ideal buyer's needs, and emphasize those aspects. A young career woman may appreciate a product that saves time while looking stylish. A grandfather may want a product that can help him bond with the kids. Focus on their needs and you'll have a great idea of where to start.
SEO keywords
SEO keywords can be listed as product features, included in the product title, or worked into the body of the product description itself as long as it still flows naturally. Good SEO can bring people directly to your product's page, making the sale more straightforward.
Sensory words
Sensory words are an excellent way to engage your audience with your product. These types of descriptive words can act as a sort of shortcut past objections and skepticism. Words like "fresh," "clean," "bright," "calm," or "velvety" all elicit emotional responses. They help potential customers imagine the product's story more clearly.
Research shows that people who have a clearer mental picture of using a product in their everyday lives are more likely to buy. Including sensory words in your product descriptions can help you boost sales.
Social proof
Finally, including social proof in a product description is a powerful tool. Social proof is any sign that other people also purchased, used, and enjoyed the product. Great reviews, mentions of places that use your product, or "as seen in" blurbs all demonstrate that your product is not just useful — it's also popular.
Strong product description examples
Understanding the theory of writing great product descriptions is different from writing descriptions that sell. Here are three examples of actual, excellent product descriptions and why they work.
Madewell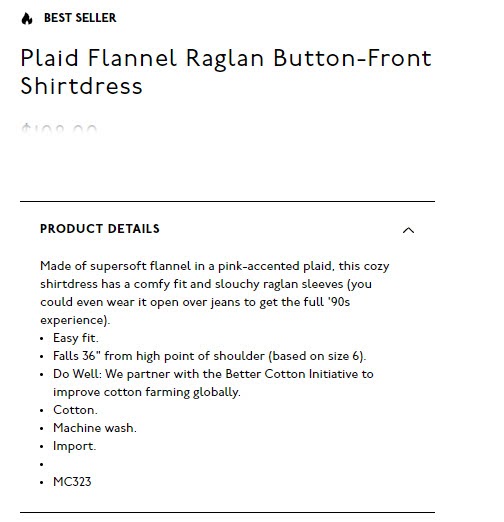 The words "Best Seller" above the product's name not only provide social proof, but can also induce fear of missing out (FOMO) before a potential buyer even gets to the body of the description.
This product description, of a flannel shirt, demonstrates its clear grasp on Madewell's target demographic. Many of Madewell's customers are young women who are environmentally conscious. Madewell uses casual language and references popular '90s nostalgia in the body of the description, then mentions its commitment to the environment in the bulleted list.
Madewell also uses an effective format for its description. By keeping the basic details contained to a bulleted list, they are free to use more sensory words and provide examples of daily use in the body of the description. This technique keeps their description vivid, concise, and easily scannable.
Weber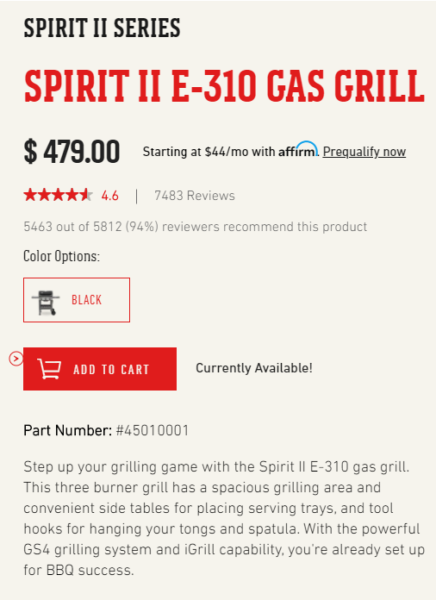 The Weber Grill description is just below its star rating, offering a potent example of social proof.
Weber's grill description includes sensory words, "spacious" and "powerful", it explains the benefits it offers with statements like "step up your grilling game" and "you're already set up for BBQ succes," it lists it's features along with their uses, and it prominently demonstrates social proof by placing the description just below the reviews. With a 4.6-star rating out of 7,483 reviews, this is definately a grill that others enjoy using.
Wayfair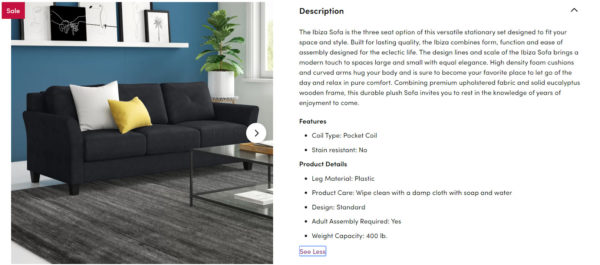 Wayfair's description of their Ibiza Flared Arm Sofa uses sensory words to encourage customers to imagine sinking into the sofa.
The furniture retailer Wayfair understands how to appeal to customers' emotions and senses. It uses words like "hug," "comfort," and "plush" to help people imagine sitting on the couch. Meanwhile, it includes more practical product features and details below the emotional description, so buyers with specific needs can easily scan for what they need.
How to Write Product Descriptions That Sell and Good for SEO
Now, let's get into details on how to write a good product description that sells. How do you describe a product? Are long descriptions always better? How important is writing product descriptions for SEO? What's an SEO-friendly product description?
Step 1: Identify Your Target Audience
While you might probably get a sense of your target audience now just by asking, "Who is the product for?" knowing your audience doesn't end there. You need to dig deeper than learning whether your audience is male or female, married or not. Ask yourself questions like:
Writing product descriptions would be so much easier and effective if you know your target audience on a deeper level. Hu Kitchen, for instance, knows their paleo and vegan food-loving audience too well:
The best product descriptions address the target buyer's frustrations to pique their curiosity and communicate with them on a more personal level. Your product description can speak on behalf of the product using words that your target buyers use.
Step 2: Determine the Copy Format
Using bullet points is the perfect copy format to highlight key product details such as specs (size, color, technology, use cases, etc.) and features. Often these are short phrases perfect for shoppers who will most likely scan the most important product details only.
If your product requires a little bit of narrative to appeal to the shoppers' emotions and imagination to engage them, bullet points will not cut it. This is where a paragraph of texts come in. A paragraph of three to four sentences can be used to convey the story behind a product. If you have more to say about the product, feel free to add another paragraph.
For product variants with technical specs like electronic devices, it's good to use a table to list or compare variants and specs. It's much easier to consume technical details in tables.
Step 3: Stand Out With Mini-Stories
What makes your product special? Is your sweatshirt hand-knit by underprivileged individuals? Are you using locally sourced, recycled, or sustainable materials to manufacture your product? What are your missions? Are there people or causes that will benefit from every sale made through your product?
Using heartwarming stories to connect with your audience on a more profound level breaks rational barriers that naturally come with persuasive copywriting. Remember, people buy on emotion and justify with logic.
Storytelling is not new but still so effective. According to a 2017 study, 87% of consumers would buy products from a company that supports a social cause. Toms and Patagonia are two well-known brands that have found success in using the power of social cause stories to connect with their customers and eventually increase sales. And this strategy has been mirrored by thousands of companies worldwide.
Step 4: Avoid Vague Descriptors
It's tempting to just describe a product as "top-quality" and "perfect," most especially if the product genuinely embodies these characteristics. These are average modifiers that have been used in almost every mediocre product description. But you don't want mediocre product description. What you want is something that cuts through the noise, something that speaks to your target audience.
So instead of saying "high-quality," why not describe the material that makes it high-quality? Instead of saying "durable," why not use words to describe the materials that make the product durable? Instead of saying "good," why not use the words that make the product good? Make your readers imagine what the product is like in real life.
Product description copywriting can be tricky, especially if you are selling the most mundane everyday items. How can you be creative if you are selling trash bags? Well, folks at Planet Wise managed to come up with some compelling product descriptions despite that.
Common Mistakes When Writing Product Descriptions
Now that we got the best practices of product description copywriting out of the way. Let's talk about the common mistakes many businesses and copywriters make when writing product descriptions.
1. Overoptimizing for Search Engines
Long gone are the days when ranking at the top of Google's search results could easily be achieved with keyword stuffing. Surprisingly, tons of product pages can still be seen riddled with keywords all over the place, begging Google to derank them. Today, keyword stuffing is not going to cut it anymore.
So as much as possible, place your main target keyword in the title, URL, and product description/details/overview in the most natural way. Depending on how you structure your product descriptions, you may also include your target keyword in the body copy.
Note that overoptimizing for search engines is not only off-putting for search engines but also your audience. Poorly-written product descriptions can lead to high bounce rates and low conversion rates. Who wants that?
2. Using Generic Copy From Suppliers
Equally as worse as keyword stuffing is the use of boilerplate product descriptions of manufacturers or suppliers. In the eyes of customers, it's lazy and screams "I-don't-care-if-you-buy-this-product-or-not."
Even if the manufacturer's product description is speckless (which hardly ever happens), make no mistake. It's likely used by other vendors. As you may already know, search engines look at unoriginal content with disgust, and if you are lucky enough, you'll be buried six feet deep in search results.
3. Does Not Include Benefits
A product description that puts emphasis on features instead of benefits is one thing. A product description that does not include benefit at all is another. Sure, the easiest way to create product descriptions is to list all the product features. Boom. Done.
But this is a grave mistake. You need to make sure your target audience knows what these features do. What's in a feature that can help your audience ease their life? That's a benefit!
I tackled this above, but it bears repeating. Using features as the center of attention is not as effective as putting benefits front and center. Features appeal to logic, whereas benefits connect with people's emotions.
4. Lack of Structure
A lot of online store owners go in without a plan or process when it comes to crafting product descriptions. This is not smart for so many reasons. Having a go-to product description template ensures consistency in brand voice and tone throughout your store.
With a plug-and-play template for product descriptions, it's easy to flesh out the most important details and make your product descriptions convert well. And that's what you will find in the following section.
Step 5: Repeat
After following these steps you should have a well-considered and powerful product description that will help get your item found and convince shop visitors to become buyers. However, optimising product descriptions to be the best they can be is a process that happens over time.
This means revisiting your descriptions every once in a while. Over time, you should start to acquire useful data that you can use to improve your pages; be that over a month, a quarter or any such interval that works for your business.
Google Search Console can help you to discover data such as how many people are finding your page in the search results, which terms they are searching for when they see your page and how many of them are clicking through to visit. This can be helpful for understanding whether or not any changes you make to your descriptions have had an impact on your ranking and which products you should prioritise revisiting to improve your results.
Google Analytics can help you track the behaviour of people that visit your page, such as how long they spend on a page, where they go next and if they left your website. Using this, you can see how people engage with your content. If you notice you have a high bounce rate or the time spent on the page isn't as long as you would expect, these could be indicators that someone hasn't found the information that they're looking for and work needs to be done to help these visitors.
Getting used to assessing your product pages with these tools will help you to develop a process continually improving your website over time. With such a focus towards improvements to your product descriptions, you will see this reflected in the results these pages produce for you over time.
We hope this advice has your creative writing juices flowing and you're now raring to write about your products. If you have any fantastic writing tips about creating successful product information, please share them below!
Sources:
https://www.constantcontact.com/blog/product-description/
https://www.rootsdigital.com.sg/product-descriptions/
https://www.create.net/blog/how-to-write-an-effective-product-description